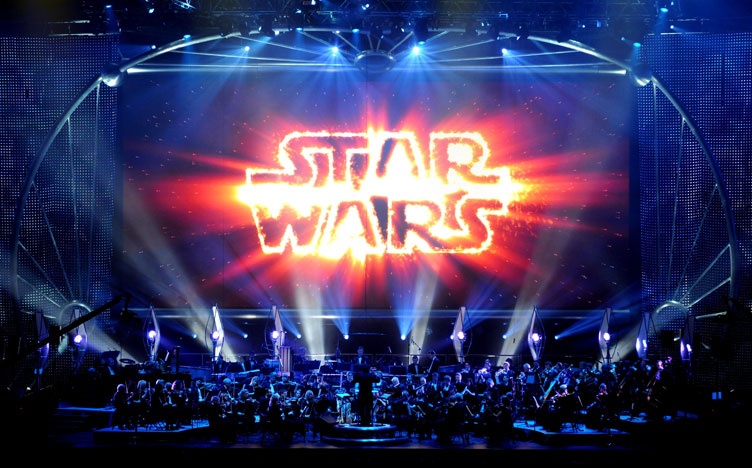 Creating the music for the Star Wars films has been an exiting and wonderful expirience for me, and I theirfor have derived particular pleasure in assembling a compendium of themes from all of the films to be presented in Star Wars: In Concert.
' -John Williams
About the show
Star Wars: In Concert is a unique event that combines John Williams' unforgettable music, performed by a live symphony orchestra and chorus, with specially edited footage from all six Star Wars films. Through each musical piece, audiences will experience the key themes, characters and story elements of the epic Star Wars saga from a new perspective. Taking a remarkable excursion into the heart of a galaxy far, far away. A true multi-media experience, Star Wars: In Concert features a giant, specially constructed LED screen - the largest LED screen ever taken on tour - onto which the newly edited film sequences will be projected and synchronized to a live performance of music from John Williams' thrilling scores. The screen will be accompaned by coardinated lasers. Anthony Daniels, the actor who portrays C-3PO in all six films, will introduce each segment of the two-hour show, guiding audiences through the Star Wars story in a fresh and exciting way. Through the power of music and images, we follow the mythic story of Anakin Skywalker, experience the rise of the Galactic Empire, share the brave struggle of the Rebel Alliance, and thrill to the triumph of good over evil. Along the way, we meet many of the legendary characters who share the Star Wars universe - the valiant Luke Skywalker, wise Yoda, noble Princess Leia, stalwart R2-D2 and the irreplaceable C-3P0.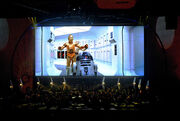 Music
Very few film scores so vividly paint musical pictures of such accessibility and precision that one becomes aware of the narrative through the music alone. In any given moment there is no mistaking desert for detention block or spaceport for sandcrawler. The plight of Princess Leia, the coming-of-age odyssey of Luke Skywalker, and the final quest of Obi-Wan Kenobi all exist as much in the music as they do on the screen. John Williams weaves these various characters and storylines into a unified musical whole through his use of specific moods and distinct thematic material.
This Wagnerian technique is called "Leitmotif" - the linking of melodic phrases with individual characters or story elements which can be repeated and re-orchestrated. Played loud or soft, fast or slow, mournful or joyous, as required by the narrative. The practice was common to the biggest film composers of the 1930's - Max Steiner, Erich Korngold, Franz Waxman - and perpetuated in subsequent decades (and in a variety of ways) by their colleagues and successors.