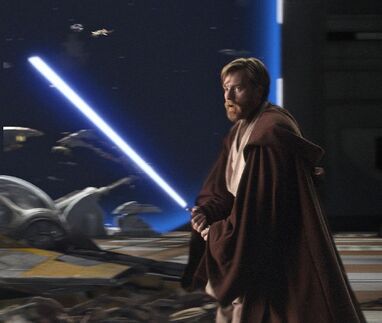 Obi-Wan Kenobi, later known as Ben Kenobi during his exile, was a Jedi Master who played a significant role in the fate of the galaxy during the waning days of the Galactic Republic. He was personally responsible for the deaths of Darth Maul and General Grievous, and indirectly caused the deaths of Darth Tyranus, Darth Vader, and Darth Sidious by training Anakin and Luke Skywalker in the ways of the Force. He had a long and tumultuous career that has helped shape the fate of an entire galaxy. He received his training from Masters Yoda and Qui-Gon Jinn. He taught both Anakin and Luke Skywalker in the ways of the Force, even carrying out his role as a mentor to the younger Jedi beyond his natural life through use of the Force, remaining a significant influence on Luke Skywalker's foundation of the New Jedi Order.
In 32 BBY, Obi-Wan Kenobi became the first Jedi in approximately 1,000 years to defeat and kill a Sith Lord in combat when he defeated Darth Maul during the Second Battle of Theed. He later defeated Darth Vader on Mustafar, though he did not kill his former Padawan and friend. Kenobi was also one of the last members of the Jedi High Council during the waning days of the Galactic Republic, one of the few Jedi to survive the Great Jedi Purge, and a master of the third form of lightsaber combat, Soresu. He fought as a High General for the Galactic Republic during the Clone Wars, earning the sobriquet "The Negotiator" through his charm and calm demeanor as well as the quiet threat of his abilities with a lightsaber.
Ad blocker interference detected!
Wikia is a free-to-use site that makes money from advertising. We have a modified experience for viewers using ad blockers

Wikia is not accessible if you've made further modifications. Remove the custom ad blocker rule(s) and the page will load as expected.